ACE EdVenture Biosphere, the August intake of Dwi Emas, is on the mission to grow students with the Power to Reshape the World.
As an extension of Dwi Emas' entrepreneur education, ACE Biosphere adds the NatureTech Focused Learning curriculum, 10 hours per week and part of the regular school day, which we've created to inculcate a technology-oriented approach to environmental sustainability.
The majority of the initiatives, businesses, coursework, etc. that your children will work on will revolve around environmental challenges and aspire to address the United Nations 17 Sustainable Development Goals.
ACE EdVenture Biosphere is the convergence of the 3 Es: Education, Environment, Entrepreneurship. 
While it does retain all of the value Dwi Emas offers, there are key differences for you to consider.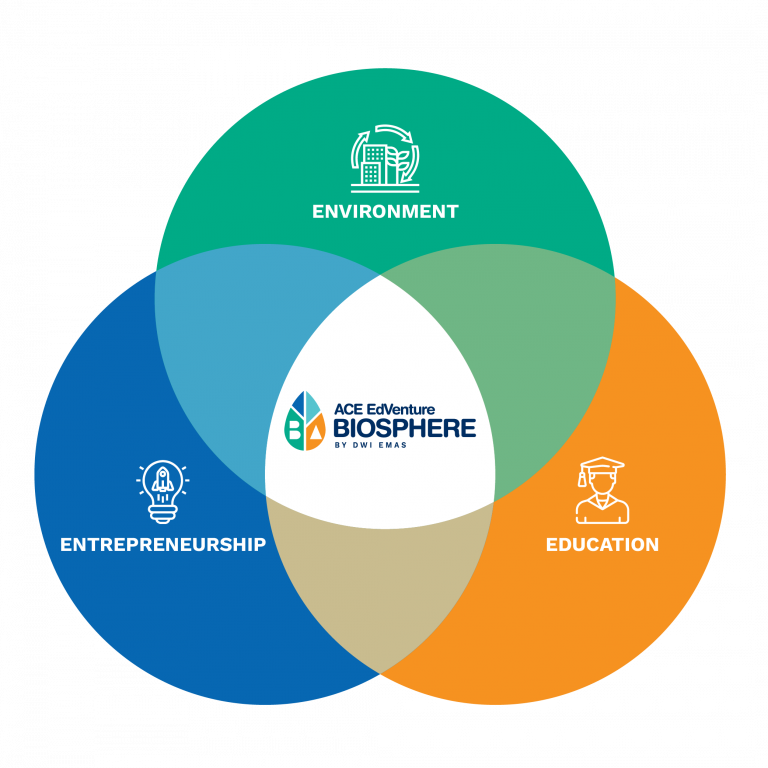 ACE EdVenture's Transformational Education
Practical Education
(Learning by Doing)
Environmental Learning Experiences
(Local and international)
Co-working environment
(Workspace of the future)
TRIZ (Theory of Inventive Problem Solving from Russia)

"Entrepreneurship is a great leveler. The wonderful thing is that money is not the sole currency when it comes to starting a business; drive, determination, passion and hard work are all free and more valuable than a pot of cash."
Sir Richard Branson
Academic Excellence + Human Skills + Entrepreneurship

Powerpreneur
1 hour per week
Skills Enhancement
1.5 hours per week
"The best way of learning about anything is by doing."
Sir Richard Branson
Academic Excellence + Human Skills + Entrepreneurship + Environmental Regeneration

Powerpreneur + NatureTech
10 hours per week
NatureTech
Accessible up to
10 hours per week
If the environment is a passion of yours and your children or you're simply interested in experiencing a powerful entrepreneurial education focused on environmental sustainability, do find out more about ACE EdVenture Biosphere and the NatureTech curriculum at acebiosphere.org or speak to an ACE Consultant now.
Transportation and boarding services are available