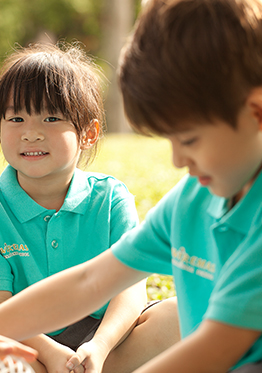 It is in the early years of education, where much of how our children learn is communicated and taught. Every single day brings new experiences and the tracks are set. Just as much as it's the content that children learn, it's the teachers who have a significant impact on their learning. Teachers are far, far more than one-dimensional individuals with a standardised lesson plan.
Growing people and not students starts from the very first day of enrolment. Education is so much more than academic success. Navigating the complexities of working in groups and interpersonal skills are part of the learning processes that we champion for our students. Guiding them toward these kinds of intelligences and skills, and sorting out the finer points is one of the many aspects of the job that our teachers embrace.
Furthermore, one very realistic question we should ask ourselves is if children should wait for formal education to dictate the things which they should learn. We believe there is no such thing as the wrong time when it comes to becoming acquainted with real-world skills such as financial education and entrepreneurship. That's why at Dwi Emas, they start in Year 1.
Our Primary 2017 Calendar is available for parents' download.