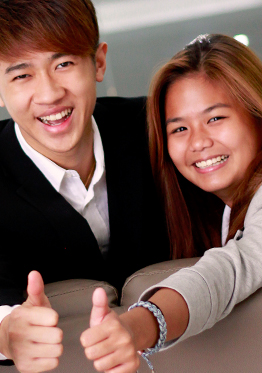 Setting a new benchmark is an ambitious task in any field. In education, it becomes one of more intangible proportions. We offer Cambridge's A Level programme but so do many other institutions. So how is our A Level programme different than others? The answer per se is fairly simple, but what's behind it is a little more complex:
Timelines and deadlines are, of course, part of any academic programme that seeks to educate and grow people. The pressure of memorising, however, is replaced by how we approach learning in the first place: Guiding students to growing their personality in tandem with academic success; not from the top down but as mentors, walking alongside them.
And while education seems to be moving unapologetically towards the kind of environment where students download everything and have little need to actually attend classes, we believe in striking the balance with a little more poise.
Of course, we embrace technology and make it work for our students where it does indeed prove to be an asset. Equally important is offering live scenarios and concepts which draw students into the real world where we do have to interact and form human relationships with the people we are engaged with on a daily basis.
Simply put, an A Level qualification from Dwi Emas offers both a great environment to achieve academic success in as well as a learning atmosphere anchored by character development and mutual support. Our graduates leave Dwi Emas equipped and empowered to lead themselves to success.